Haul from Vanek trade continues to grow for Sabres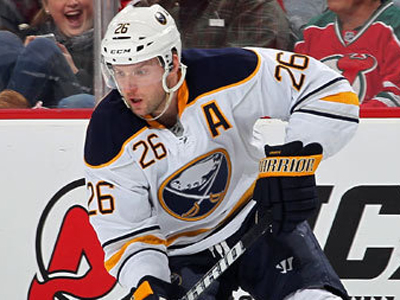 Buffalo - July 3, 2014 - GM Tim Murray may have inherited a clunker of a roster from Darcy Regier, but the Buffalo Sabres organization still had good bones despite the kamikaze job Regier did on the roster prior to his departure.

One of Regier's final acts continues to bear fruit for the Sabres as the trade that sent Thomas Vanek to the Islanders may serve as a major catalyst for Buffalo's rebuild. Murray brought this full-circle by re-sigining Matt Moulson and Cody McCormick yesterday. By doing so, he brought back a pair of players he sold off as rentals at last year's deadline and virtually saved any currency he spent in building for the future.

Moulson and McCormick return to Buffalo after being shipped off for a pair of second round picks and Torrey Mitchell at the deadline. Mitchell is still with the club and the two second round picks were turned into Josh Gorges, Eric Cornel and Brycen Martin – the latter two through this year's draft. Gorges, Cornel and Martin all factor into a bigger picture that still includes Moulson and New York's first and second round picks in the 2015 draft. It's an impressive haul that could technically grow more should Cornel or Martin be used in a future transaction. For now, the original trade has become seven assets that are set to directly impact the team in 2014-15 and beyond.


3,302 Stories & Growing Daily...

To date HometownHockey.ca has posted a total of 3,302 hockey stories!

Be sure to check out our Columnists archives or, why not Contribute a Story yourself!



HometownHockey.ca

offers a very generous revenue sharing opportunity for our Columnists. If you are interested in learning more details about writing for us, please send us an

EMAIL.