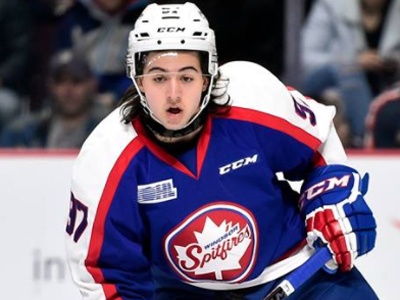 Windsor - Mar. 21, 2017: Windsor Sptifires right winger Jeremy Bracco has signed a three-year, entry-levelcontract with the Toronto Maple Leafs, the club has announced. Bracco was drafted by Toronto in the 2nd round (61st overall) of the 2015 NHL Draft. FULL STORY
| | |
| --- | --- |
| Ottawa - Mar. 8, 2017: With less than a month left of the regular season, NHL fans are closely watching how these last matches unfold as one team moves towards winning the Stanley Cup. While watching a match whether live or at home, fans also have found that pairing it with sports betting gives new meaning to the results. FULL STORY | Windsor - Feb. 9, 2017: It wasn't the homecoming that Windsor business man and Oshawa Generals Owner Rocco Tullio was hoping for Thursday night. The Windsor Spitfires scored a lopsided 7-1 victory over the Gens in front of 4,936 fans at the WFCU Centre. With the win, Windsor improves to 20-3-1-0 on home ice in Canada's south and Oshawa falls to .500 with an 11-11-3-2 road record FULL STORY |
| Quebec City - Jan. 29, 2017: On behalf of the CHL, OHL, WHL and QMJHL, our thoughts are with the family and friends of those affected by the shooting in Quebec City Sunday evening. All Top Prospect players and staff in Quebec City are safe and accounted for. FULL STORY | Windsor - Jan. 29, 2017: The Windsor Spitfires skated to a 5-3 victory over the Hamilton Bulldogs on Sunday night in front of 4,784 fans at the WFCU Centre. The Spits were without star goaltender Michael DiPietro, NHL first rounders Logan Brown and Logan Stanley, NHL drafted Jeremiah Addison and NHL prospect Gabe Vilardi. Two LaSalle Vipers players, Maddux Rychel and Brett Primeau, jumped into the OHL lineup tonight. FULL STORY |
Mountain Top - Dec. 17, 2016:
Thunderbird's started things out scoring the first goal of the night Chase Balisy would get the credit. WBS wasn't going to take the night off
Mountain Top - Dec. 16, 2016:
Rochester came out looking to make its mark in the second but the Penguins weren't having it, snuffing every chance the Amerks had
Pittsburgh - Dec. 16, 2016:
The Wilkes-Barre Scranton Penguins have yet to claim the AHL's ultimate prize, but that doesn't mean the club hasn't given its fans countless other games worth remembering forever in its short 17-year history.
Mountain Top - Oct. 21, 2016:
The first period wasn't so good for WBS the Thunderbird's scoring twice, yes one was waived immediately off for a high stick, still the Penguins left the ice for the first intermission looking at a 1-0 deficit.