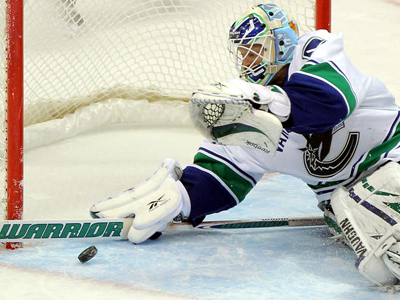 Vancouver - February 6, 2013 - Cory Schneider's agent, Mike Liut may have turned up the heat just a bit when he threw his hat into the boiling cauldron of the Canucks goaltending debacle by saying he isn't happy with the playing minutes the Canucks No.1 goalie has been getting so far this season. This season, albeit a shortened one, the Canucks all but handed over the starting goaltender job to Cory Schneider after last year's early departure from the Stanley Cup Playoffs, and had come to a mutual agreement with Roberto Luongo that it would be best if the two camps parted ways. Only problem is, that at least on the surface nothing has changed at all.

Who's the starter? Who should be the starter? Schneider should be the starter we were told, but Luongo is playing so well it is pretty hard to deny him the start. Luongo wants out (and the Canucks claim they are trying to move him) but he is playing so well, and with Eddie Lack's season ending hip surgery, it is hard to fathom putting Schneider in net without a reliable backup should something happen to him later in the season. There are lots of questions, and "what-if's" being bandied about Canucks Nation, but no real answers or solutions. Something needs to happen quick though, before bridges start getting burned, and the ball is in GM Mike Gillis' court.

Roberto Luongo must feel like he's sitting in the cat-bird's seat getting to showcase his talent on a regular basis while waiting for the perfect offer to come in before he'll waive his no trade clause. Only problem is, he's still got 10 years left on his $64 million contract, and Gillis has said he has no intention of giving Luongo away for free AND eating some of his contract as well. Which only means that a team with very deep pockets and the trading rights for Moses himself can afford to even consider adding Roberto to their roster. And the bottom line his, Roberto gets the final say on where he goes. It's a win win for Roberto, and as long as he keeps winning games between the pipes for the Canucks his stock value will continue to rise, which ultimately makes Cory Schneider the loser in the equation.

You have to feel for both Schneider and Luongo in this situation because neither one of them asked to be put in this position, but rather it was probably thrust upon them because of a knee jerk reaction after last year's playoff round elimination. Things probably could have been handled better by management if only a little bit of cool off time was employed. But it seemed like the ink on the round 2 playoff schedule wasn't even dry yet when Gillis announced Schneider would be the go-to netminder for the Canucks come the 2013 season, and that Luongo would be moved. That plan would have been well and fine if it had happened in the off season, but with the lockout and the start of the shortened season, it didn't happen and now Gillis is in the position he's in!

If this goes on for much longer, Luongo won't be able to be traded, especially if he continues to get the starts and GASP keeps winning those starts. All this would be good for Roberto and the Canucks, but be bad for the heir apparent to the starting position, Cory Schneider. Because while Luongo is getting the playing time, he'll be cooling his jets on the bench waiting for his chance again to showcase his skills, while deep down inside he must be feeling some sort of animosity towards the organization that made him a promise then broke it.

Sure, it's easy to say that it's the nature of the game, and it's only business. And both Schneider and Luongo have been extremely professional about this whole mess, publicly stating that they support each other and they are willing to do whatever is necessary as long as it's in the team's best interest. But with Schneider's agent getting involved and saying that there is some concern that the backup is getting more starts than the starter, it doesn't take an Einstein to realize that Schneider is nearing the end of his patience with this whole debacle as well.

What if Schneider decides that he wants to move on, and demand a trade to a team that will play him? Why not? His $12 million dollar contract may seem a bit more palatable to a team that is in need of a quality goaltender, thus making him easier to move. Why not? If the Canucks continue to play Luongo and let him showcase his talent game in and game out, the Canucks might find that he is too indispensable to trade after all, and end up alienating Schneider in the process. What if both goalies say they've had enough of the double talk and want out?

It's time for Gillis to pull the trigger and get a deal done before any bridges get burned. Either that or he needs to make amends with his goaltenders and start treating them like members of the Canucks team and not assets on the bankroll. If not, he could have another Pavel Bure situation brewing in the locker room all because the element of trust between management and player is gone.